PVPC
Pleasant Valley Presbyterian Church
 150 Pilgrim Way, Brodheadsville, PA
(right near the Community Library) 
Phone:  (570) 992-0158   Fax: (570) 992-0828
Email:  pvpchurch@frontier.com
A Community Church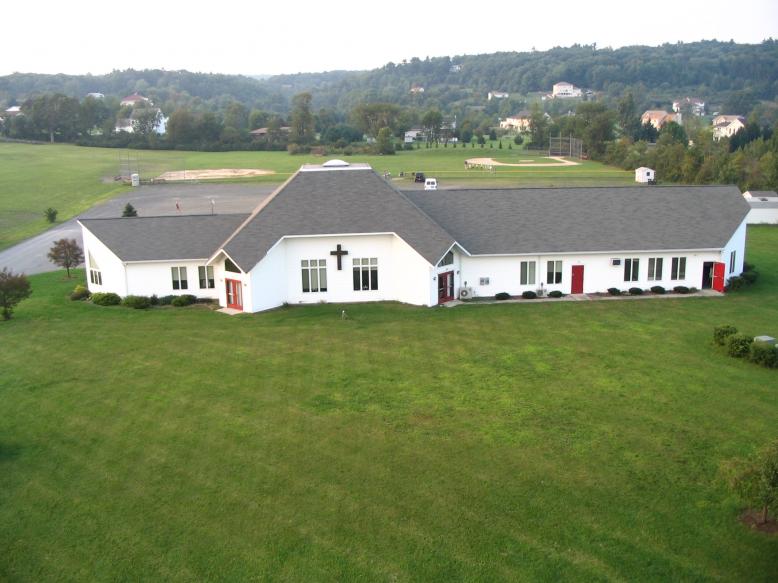 SUNDAY WORSHIP SERVICE  10:15 am
A blended contemporary worship service

SUNDAY SCHOOL:  Classes for ALL at 9:15 am
Sharing God's Message each Sunday
Rev. Sue Bennetch
Minister to the Congregation
We are also pleased to officially welcome
Christy Potter-Kass as our supply pastor
as she continues her student ministry
for the next 2 years!

Sermon:  "When Your Faith Goes Through The Roof"

Scripture Readings:
Psalm 47  NIV
Mark 2:1-12  NIV
In the second chapter of Mark's gospel, we hear the story of a paralyzed man who was desperate to reach Jesus for healing.
But when his friends couldn't get the man into the house Jesus was in because of the crowds, they tore a hole in the roof and lowered their friend in, and Jesus healed him.  Not only did the paralyzed man demonstrate Outrageous Faith, so did his friends
Join Us!  Bring your family & friends!
What's Happening…
Congregational Meeting / Annual Report –  Our Annual Congregational Meeting will be taking place immediately following worship next Sunday, January 29.  Reports will be emailed out on Monday with hard copies available here the day of the meeting.  Please keep in mind, while this meeting is usually pretty quick, it is a very important meeting for our church, so mark your calendars and plan on attending.
E-Giving App – COMING SOON!!!
Men's Bible Breakfast – We meet the first Saturday of each month and our next breakfast is scheduled for Saturday, February 4 at 8:00 am.  We will be continuing our video series by Dr. David Jeremiah titled "People are Asking…Is This The End?"  We encourage all men to come out and join us for breakfast, prayer, fellowship and study.  Hope to see you there!
Game Night – Join us on Saturday, January 28 at 7:00 pm for Game Night which will be a great time for all ages.  Sign up in church or call the church office.  
Valentine's Day – Our Annual Valentine's Day Pot-Luck Dinner will take place on Saturday, February 11 at 6:30 p.m.  We hope you can join us for a night of food, fun & fellowship.  This is an adults only evening please.  Sign up today & bring a dish to share!
Bible Study – a new, 8-week Bible study, "Seeking Allah, Finding Jesus" has just started.  This class begins at 9:00 a.m. instead of 9:30 to allow more time for learning & discussion.  Join us for all or part of this new study.
Women's Bible Study – A new Women's Bible Study, "You're Already Amazing" has started and meets on Monday evenings at 7:00 pm at PVPC.  Everyone is welcome, so invite your friends & family to join us!  See Dawn FMI.
Mission & Evangelism – Our M&E group will be collecting items to send to the Dominican Republic so we can continue helping their efforts to improve themselves and their living conditions.  This is an ongoing mission that is close to the hearts of those in PVPC. Right now we are looking for donations of Barber Shop Equipment: combs, scissors, electric trimmers, razors, brushes etc.  They can be new or used but in good condition.  These items will be used to train young village men so they can work.  We are also collecting all kinds of Gardening Tools which again can be new or used but in good condition.  These items will be used to make village gardening more efficient.  If you have any questions, or ideas, please speak to anyone on our Missions Committee and feel free to come to one, or more, of their meetings, which are held on the 4th Sunday of each month following worship.
Keep Sunday Holy – Our church, along with other local churches is a part of the Keep Sunday Holy Team.  We want to keep Sunday morning free of mandatory events like sporting practices or games.  That way, we can choose church, if we feel it has an importance in our family.  This effort was started as a result of a letter from a teenager about how her family has been torn up over the choice of church attendance versus other mandatory events outside of church.  So far we have started conversations via letters to the Editor.  We manned a tent for 2 days at the West End Fair to share our feelings.  We are also encouraging other churches to join in this effort.  We consider this to be a non-confrontational, ecumenical bridge building service to strengthen families in their spiritual growth.  We also have shirts available with our Keep Sunday Holy logo on them for only $10 – see Jeff if interested.  

Crisis Meals – Deacon's are asking for meals to be prepared ahead of time and frozen in the church freezer.  Please label what the meal is and the date prepared.  This will expedite the process of getting meals to those in need.   Any questions, just call the church office.
Pleasant Valley Ecumenical Network  (PVEN) is always in need of non-perishable food items as they help many families in need in our community!  Also needed are Pleasant Valley School District approved clothing and warm weather clothing & blankets.  Please help us to keep our pantry well stocked by remembering those in need as you shop.  No donation is too small!  Donations can also be brought directly to PVEN at 279 Greenview Drive, (located at the corner of McIlhaney Road & Greenview Drive just behind the Chestnuthill Diner) on Tuesday & Friday mornings, 9:00-11:30 or left here at PVPC where we will make sure they are delivered to PVEN.  THANK YOU! 
If you are in need of assistance from PVEN, please give them a call at 570-992-3136.  You will need to have an appointment in order receive help & pick up goods, so please call ahead to gather information on qualifications.